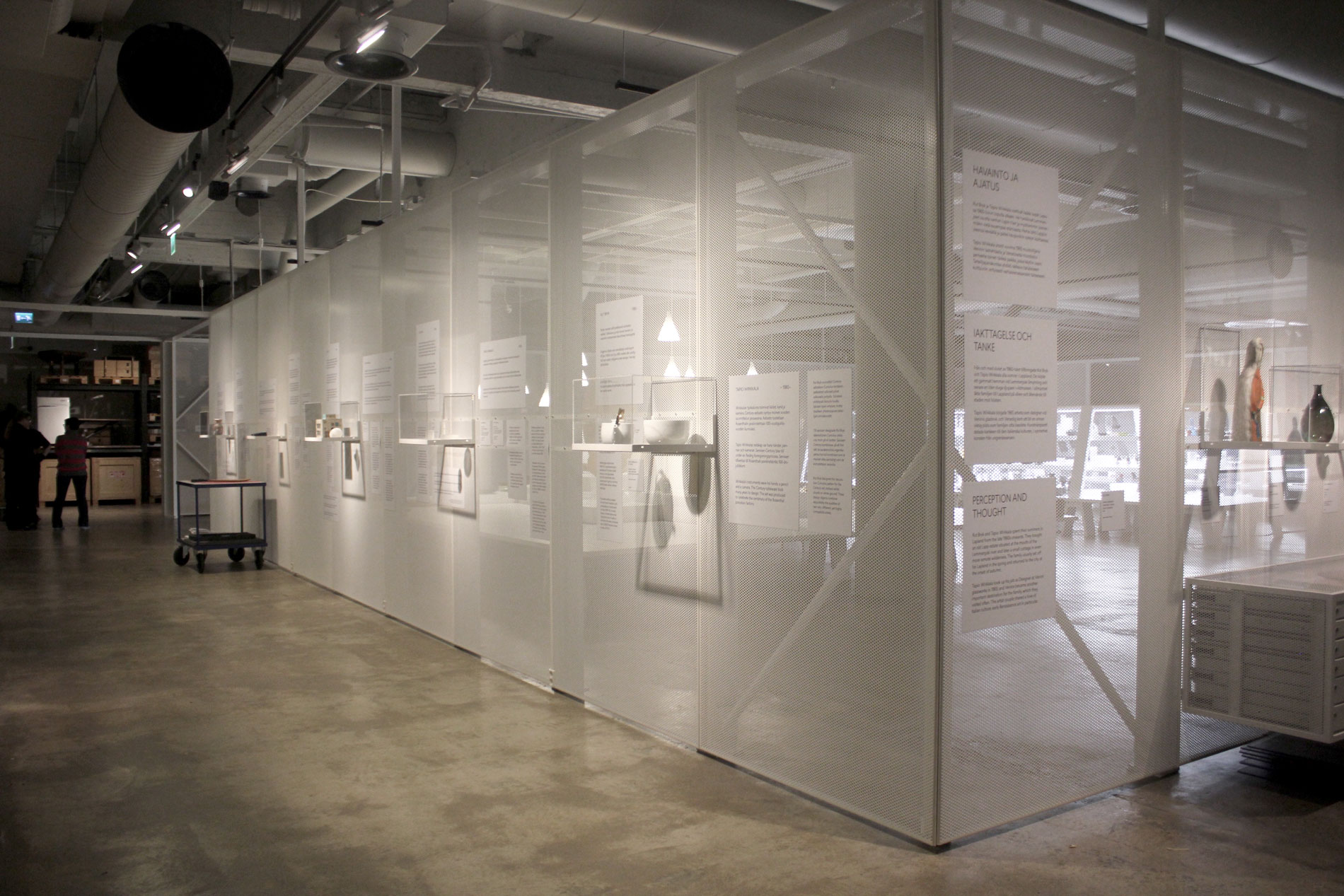 Visible storage and gallery space, 2017
The architecture of Aukio ("clearing", or "square") mediates emerging practices and activities undertaken by Espoo Museum of Modern Art (EMMA). The museum seeks to interact with the public in new and increasingly transparent ways, opening up its collections and processes as forms of engagement. In this paradigm, the visible archive sets a new typology within the museum.

Traditionally, the exhibition has been kept apart from the storage. What happens in the backstage is invisible to the front. At Aukio, this division is challenged: the exhibition and the storage are superimposed, skin on skin. Moreover, the changing exhibition and the archive constantly frame and reframe one another in an interplay of temporality and permanence.


In a modern gallery context, white walls have signified an neutral yet robust infrastructure for displaying art. Yet, the white cube poses a contradiction: while the structure functions as a versatile mounting construction, it seeks to aesthetically conceal itself, lacking any material character of its own. This paradox formed a starting point for the architecture of Aukio. The objective was to rethink the instrumental vertical surface for both display and storage into one of specific architectural quality.

The steel structure of the archive in fact materializes the space for temporary exhibitions at the center, creating a boundary that both separates and links the two conceptual parts of Aukio. There are two directions from which Aukio can be entered, and a visitor maintains a constant visual connection across the spaces. The architecture transcends the dichotomy of 'inside' and 'outside', and involves visitor movements of lingering and inquiry as part of the spatial experience.

The permeable skin between the nested spaces is the "working wall", the main architecture of Aukio. The steel profiles and perforated sheets create a strong but airy mounting surface for Tapio Wirkkala and Rut Bryk's works in the archive. The structure becomes a true infrastructure, feeding also electricity and IT interfaces to the visible archive. On the other hand, the vertical field performs as the "work desk" of the museum: making processes of curation visible. Pieces of the archive as well as the temporary exhibition can be organized and reorganized in infinite ways. The architecture seeks to represent the visible archive as a dynamic organism and an interactive platform for producing new knowledge.

Dark-colored archive furniture is placed at the edges of the room. From the perimeter to the center of the space, a transition from the archive as a dense disorganized mass of items into an articulated curatorial position of the installed exhibition takes place. Objects from the Wirkkala Bryk archive are set in displacement across this spectrum of contextualization, directed by the work of the museum. Aukio creates a window into the creative activities of knowledge production; conservation, recombination and reframing undertaken by EMMA as an institution.

Client: Espoo Museum of Modern Art